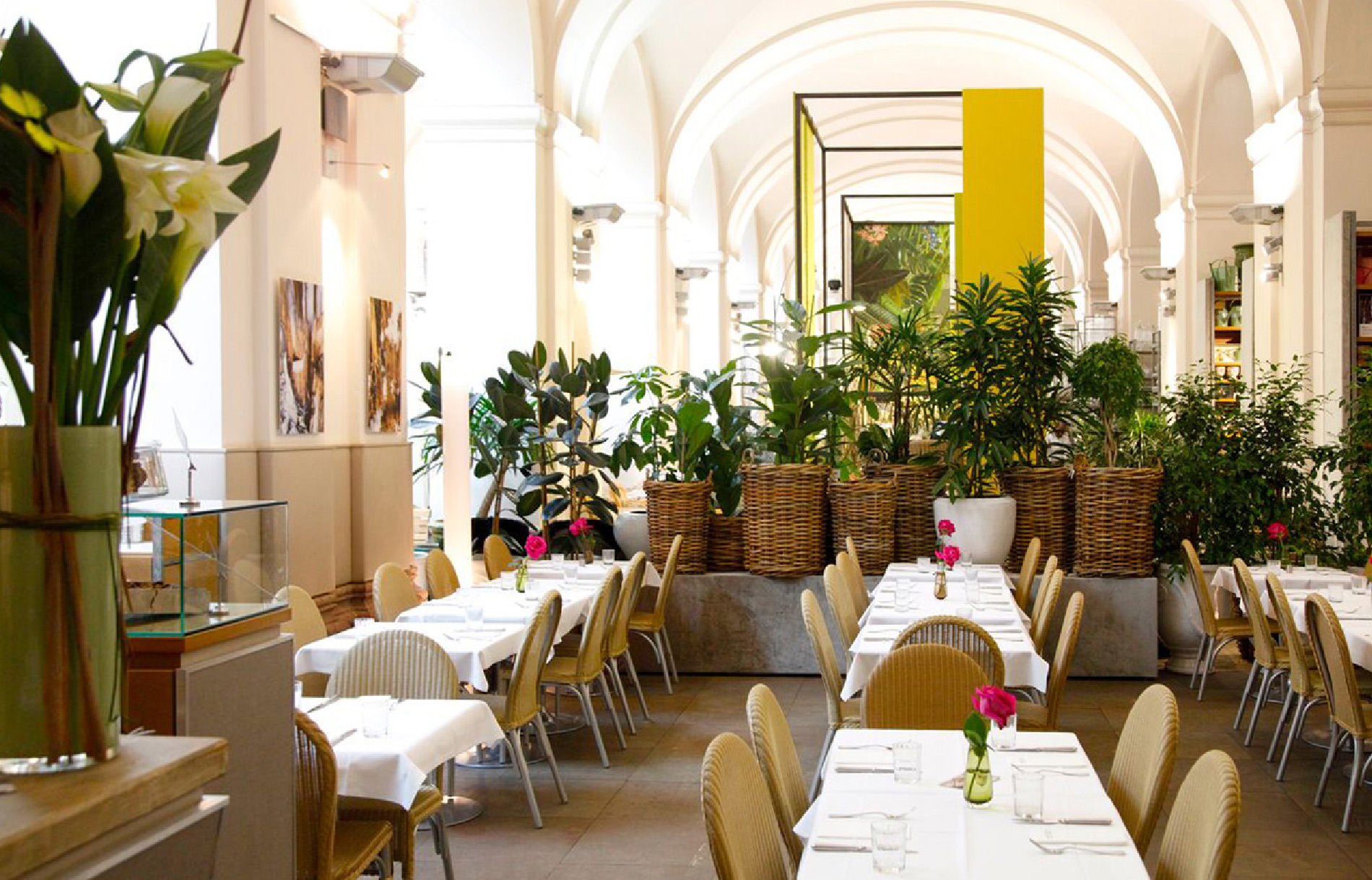 ---
A historic market hall, innovative hosts, and a team that does not classify their guests by table numbers – these are the main ingredients for your visit to Das Hansen. Breakfast, business lunch, dinner, or coffee in between.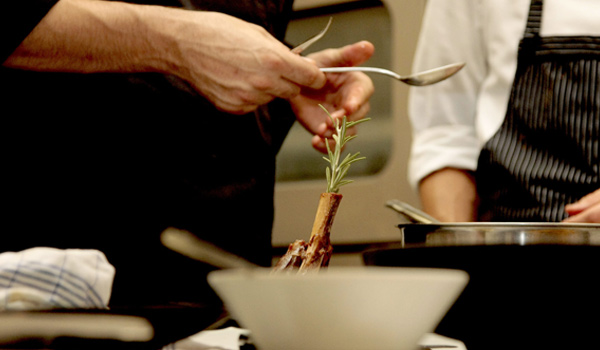 ---
When our chefs are at work, not only scents and aromas but also inspiration and passion lie in the air. The light Mediterranean cuisine with regionally sourced dishes will allure your palate.
Our menu and wine list are constantly reinvented.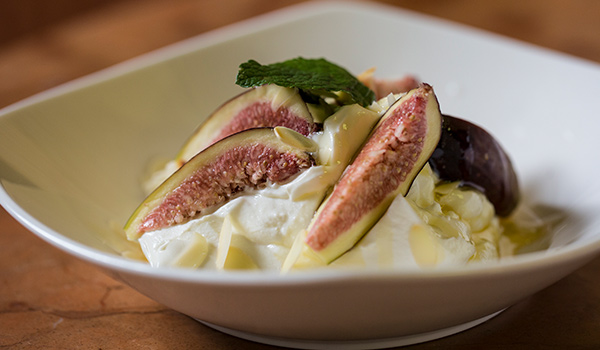 ---
The day may start packed with suspense. Pick-me-ups, vitamin juices and, of course, classics like eggs, ham or bacon are great ways to do so.
Click here for the breakfast menu.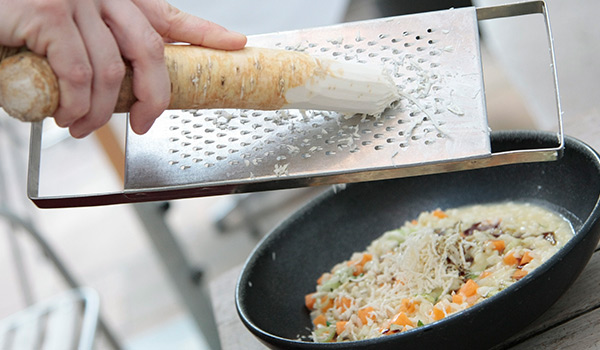 ---
Our guests say: "The risotto at Das Hansen is worth a detour. Take the best risotto in town from the daily updated board and enjoy it either in the "BOX" at a discount, or in the restaurant, or at home as a take-away.
---
The best way of catering: We coddle our wraps and sandwiches with crisp vegetable fillings, and also our guests with them as well. Whatever the occasion, we have the perfect solution. Contact us for an offer by phone or email.
---
What would a restaurant be without the people who bring it to life? The Das Hansen Team surrounding the hosts, Anita and Leo Doppler, make your visit in the historic premises your personal gourmet tour. And more, Leo Doppler will recommend you the finest wines crafted by Austrian and international winemakers.
---
Our restaurant is housed in the light-flooded basement of one of the most magnificent buildings along the Vienna Ring, the former Stock Exchange. The redbrick building in the style of historicism was designed by the famous architect Theophil von Hansen. He is actually our namesake – and reason for the unforgettable ambience encountered here.
---
No two events resemble each other. That's why it is important that even two venues do not resemble each other. At Das Hansen, you will find a location that, due to its unique atmosphere, offers the ideal setting for events, parties and celebrations of any kind (up to 150 guests). From small to big, from quiet to not quite so quiet, from business to private. Please contact us!
---
Buy a gift voucher for a culinary experience at Das Hansen. Please fill in the form (here) or order directly at Restaurantgutschein.at (You will be redirected automatically). You can, of course, also acquire a voucher directly in the restaurant.
You will be directed to: restaurantgutscheine.wien
Wipplingerstrasse 34
1010 Vienna
T +43 1 532 05 42
restaurant@hansen.co.at
Monday till Tuesday 9am - 5pm
Wednesday till Friday 9am - 11pm
Suaturday 9am - 4pm
---
Leo Doppler will come to you! ... preparing his best risotto and other delicacies in a private atmosphere. Relax with your guests or help with browning. In any case, a proven recipe for a stunning invitation!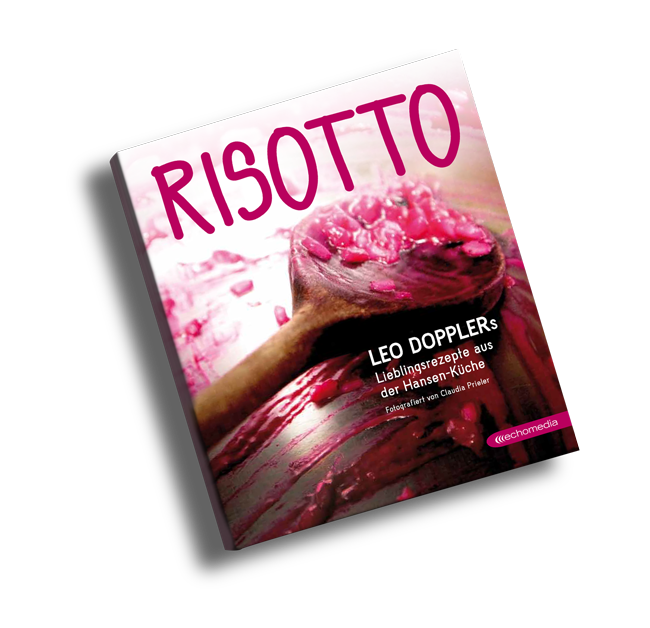 ---
Leo Doppler is dedicated to his passion for risotto. He not only reveals the secret of perfect cooking, but also presents both classic and modern-creative and exotic-audacious variants. From delightful breakfast and dessert recipes to national specialties.
Click here to order the book online (German). Or place your order in the restaurant.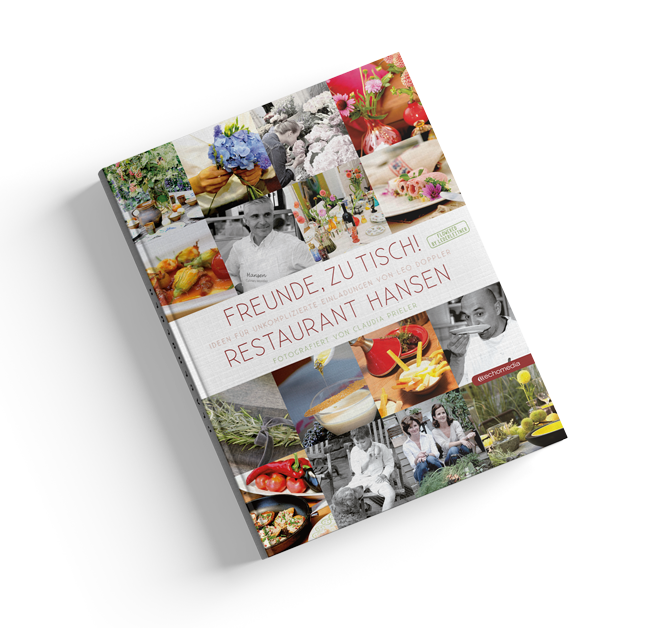 ---
Plain invitations, tidbits easy to prepare, matching beverages, and stylish decorations – inviting friends, cooking for them, and spending quality time together can be that simple. The Dopplers give insight into their restaurant, providing easy-to-make recipe ideas.
Click here to order the book online (German). Or place your order in the restaurant.
The Hansen constantly exhibits new art works in the restaurant. Besides, we participate in interesting activities and events. Stay in the loop and catch up on the latest